Tip: Search this page easily by using the hotkey Ctrl+F or F3 on any desktop browser or choose the option from dropdown menu to "Find in page" on mobile device.
BUFFET CARVERY MENU
Meat Selection
Choice of 3 meats
Oven Roasted Beef topped with Grain Mustard
Boned and rolled Pork
Boned and rolled Lamb with rosemary and garlic Roasted Chicken platters
Roasted Potato or Jacket potatoes with Sour Cream
To be carved by the Chef
All condiments to accompany meats
Baskets of Assorted Breads and Rolls
Salad Buffet Selection choice of 3
Moroccan cous cous salad with charred sweet potato
Wild salad with Baby tomatoes and Roasted peppers
Seasonal Green Garden Salad
Basil Pesto Pasta Salad with Calamata Olives and Basil Fresh Citrus Coleslaw with a Mint vinegarette
Vietnamese Rice noodle salad with coriander and mint Roasted vegetable salad with Balsamic
Traditional Caesar salad with garlic croutons Greek Salad with Bulgarian Fetta
Wholegrain mustard Potato Salad
Roasted pumpkin salad with a honey lemon dressing
Marinated Broccoli and Cauliflower salad with roasted Almonds
Seasonal Vegetable Salad with a peanut dressing
Malaysian Rice Salad with a lemon vinegarette
Asian bean salad
Tomato, Bocconcini and fresh Basil salad
Includes Disposable Plate, serviettes & cutlery
DESSERTS
To conclude Carvery Menu
Chocolate Mousse Cake, Three layers of Creamy Chocolate Mousse in white milk And Dark chocolate. Encased in smooth chocolate
Black Forest Gateau
Lemon Custard Pie
Tropical banana/passion fruit cake
Orange and Cointreau Syrup Cake
Mixed berry mousse cake
Tangy lemon tart with fresh boysenberries
New York crunch Cheesecake
Strawberry swirl cheesecake
Cappuccino mousse cake
Tiramisu soaked in Marsala
Death by chocolate Flourless
Honeycomb crunch chocolate cake
Mars bar madness layered with caramel and chocolate
Sticky Date Pudding with Butterscotch Sauce
Steamed Chocolate Hazelnut Puddings with Chocolate sauce
Cherry ripe tart
Macadamia, Orange and Butterscotch tart
Baci chocolate truffle cake
All cakes are made fresh on the day of the function
The cakes come in 8 inch or 10 inch 12 serves,16 serves
Choice of large cakes and fresh fruit platters with cream
To be set up and served by the chef
Cheese and fruit platter is also available on request
FINGER FOOD ITEM SUGGESTIONS (COLD)
Designed to be served before Hot Canapés Crackers, Dips and Crudities
A range of Dips Including Caviar, Hommus, Eggplant and Tzatziki With Greek olives, Crisp vegetables and parmesan crisps
California Rolls with Crisp vegetables, mayo and Chicken Teriyaki
Mediterranean Roasted Vegetable
Frittata stacks with hummus
Italian Bruschetta topped with tomato, capsicum and Basil pesto
Bruschetta topped with a Herbed ricotta, roasted red capsicum and an olive tapenade
Marinated mushroom and rocket Bruschetta
Bilini pancake topped with a Chargrilled chicken salsa
Vietnamese vegetable Rice Paper Rolls with Soy and Coriander
Bite sized Smoked chicken Sandwiches with Herbed Mayonnaise
Rolled omelette with Roasted Capsicum and chive cream cheese
Dainty Dill Scones topped with Smoked trout Crème Fraice and capers
Assorted finger club sandwiches with assorted fillings
Tandoori chicken on naan bread
Herbed pikelets with pear and blue cheese topping Caramelised Onion, Tomato and Feta Tartlets
Chicken Caesar Club sandwiches with crisp Bacon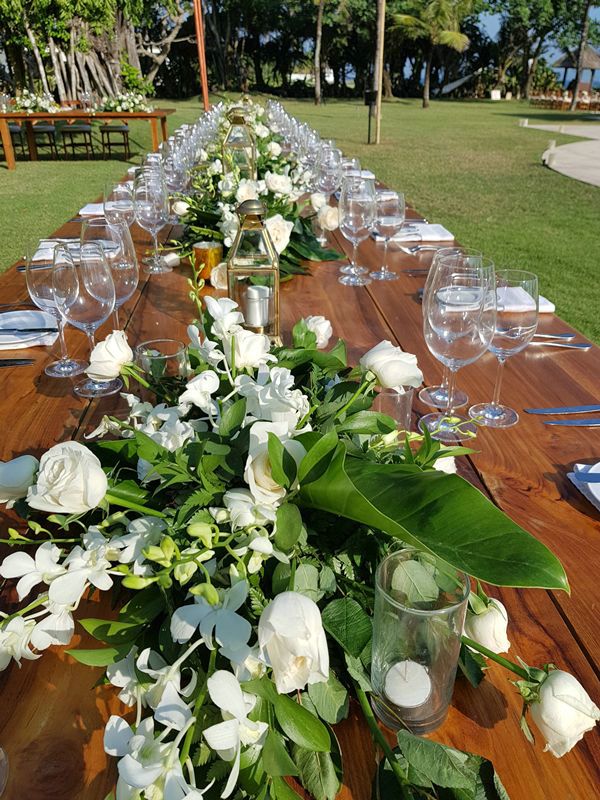 HOT FINGER FOOD
Mini Chicken Parmigianas with fresh Basil
Mini smoked Salmon and leek Tartlets
Thai inspired fish cakes with plum dipping sauce
Tempura Fish served in a bamboo basket with Crisp vegetables
Mini steak sandwiches topped with Caramelised onion
Mini corn muffins with Cajun Fish and Sour cream
Asian Basket consisting of Spiced samosas, mini wontons
Cocktail vegetarian spring rolls and steamed dumplings Salt and Pepper squid served with a light ketchup manis
Crispy Thai style chicken pieces with lime and coriander dip
Baby spinach, Persian fetta and pine nut filos
Caramelised Onion and Roasted pumpkin tartlets
Roasted ratatouille and herbed sour cream on a chilli pepper scone
Chicken and Macadamia balls with ginger ,coriander and mint
Indonesian Style Beef Sticks with a satay sauce
FORMAL FINGER FOOD SUGGESTIONS
Gorgonzola and fennel tarts
Oysters with a pesto butter
Potato, rosemary and virgin olive oil pizzas
Fig prosciutto and gorgonzola pizzas
Grilled lamb cutlets with a tomato compote
Thai beef salad on tempura coconut fritters with a green mango salsa
Sweet potato hash browns with beef chilli and avocado salsa
Nori salad rolls with marinated vegetables and peanut paste
Baby volau vents with chicken and crispy leek Prawns in chermoula
Mini lamb souvlaki
Leek and tomato tatins with lemon pistou
Forest mushroom and marscapone tarts
Mussels with roasted capsicum and Provencal crumbs Sun dried tomato mini muffins
Leek and olive bread and butter pudding
Lamb and rocket mini pizzas
Fillet mignons with béarnaise sauce
Chive pancakes with sausage and caramelised onion Individual tuna Nicoise salads
FORK & TALK MENU
For a party with a difference we have our Grazing Menu. Items are served in small noodle boxes to each guest. They are an entrée sized portion and may help to reduce stomach rumbles if you have enjoyed a long day of activities or events. They are most effective combined with items from our other menus.
We suggest a combination of
Two Fork and Talk items and Six Savouries
Three Fork and Talk items and Four Savouries
Three Fork and Talk items and Four Savouries or simply Five Fork and Talk items.
Pumpkin and Rocket risotto with shaved Parmesan Penne Rigate with Virgin Olive Oil, Chilli and Basil Crispy Fish Fillet with Shoestring Potatoes and Tartare
Wok Fried Hokkien noodles with shredded Bok Choy and Peanut sauce Fragrant Beef rendang on coconut rice
Baby Caesar salad with Chargrilled Chicken, Crispy Bacon and crunchy croutons
Fragrant chicken butter Masala with a spicy rice pilaff
Thai Beef Noodle Salad with Fresh Mint and Coriander
Roasted Vegetable Salad with Pesto dressing and Shaved Parmesan
Nicoise Salad with Tuna, Egg, Plum tomatoes, Kalamata Olives and rench beans


HOT CANAPÉ SELECTION

Asian Basket including Mini spring rolls, samosa and steamed Wontons with a sweet chilli sauce
Mini herb focaccia with Kalamata Olives, pesto and Greek fetta
Herb Bruschetta with vine tomatoes, green olives and Basil Baby potatoes with garlic sour cream, crispy bacon and chives
Blackened Cajun chicken with smoked paprika mayonnaise
Mini lamb burgers with mint pesto
Chicken, bacon and avocado pizza
Rare roasted mustard Beef served with Basil pesto on a ciabatta crouton
Fresh fish of the Day goujons served with a lemon dill aioli
Caramelised Onion and Spinach tarts
Thai fishcakes with a sweet chilli
Vietnamese vegetable and fresh coriander rice paper rolls
WORKING LUNCHEON
– Corporate Events
As follows some varieties of sandwich fillings that are available.
A selection of the following freshly made open sandwiches served on a variety of breads including Turkish pide, sourdough and assorted rye breads.
Rare roasted sirloin of beef, honey mustard, snow pea sprouts, semi dried tomatoes and Swiss cheese.
Freshly roasted chicken, a lightly spiced guacamole, finely Sliced Spanish onion and rocket lettuce
Pinwheel pita tandoori chicken breast with cucumber raita Shaved double smoked leg ham, Australian seeded mustard, Swiss cheese, finely sliced cucumber and carrot ribbons Focaccia filled with creamy fetta, roasted capsicum, baby spinach and chargrilled pumpkin A selection of chargrilled marinated vegetables, including eggplant, capsicum, zucchini, mushrooms and semi dried shredded tomatoes Freshly cut seasonal tropical fruit platter
Cheese Platters on request
Any combination of Finger food can be Included Including plates, cutlery and serviettes